'So Very Mental' is a lark. Its for anyone who likes a good laugh. In other words, it's for everyone. If you've ever fallen in love, if you've ever broken up, if you've ever listened to a song that made you stop everything you're doing, or if you love a football match on a Saturday afternoon (not a pre-requisite ladies!) then there is something here for you. Most importantly, this book — that, amongst other things, humbly and lovingly characterises those with autism (if you liked Love on the Spectrum, you'll recognise yourself in this story) — is meant to show us that we're all in this thing we call life together. Applaud diversity — it's the wonder that energizes us and gets us out of bed every morning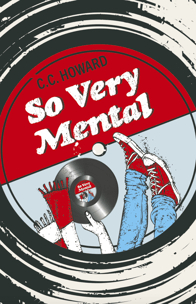 'WHEN IT COMES TO LOVE, WE'RE ALL ON A SPECTRUM'
What do you get when you cross a music snob, a football fan, a star-gazer and a tragi-romantic loser-in-love? You get Howie.

Howie lives with his brother, Ben, who has autism. Ben is funny and utterly loveable. More than anything, Ben wants a girlfriend. So when the TV show Love is Mental (a dating show for people with disabilities) is aired, Ben decides to participate. And this is where life starts to unhinge for Howie. You see, Howie wants romance too. So when he falls for one of Ben's dates, it sets him off on a rollicking journey into deception that will ultimately reveal to him that he is much more like Ben than he could ever have imagined.

So Very Mental is a warm, quirky and inclusive story. It shows us that when it comes to this crazy thing we call life, we're all in it together.
'
There's a warmth in C.C. Howard's debut that wraps itself around you like the best of Hornby or Doyle. Music, football, love and kindness - I was hooked.'
- Richard Jobson, singer-songwriter for Skids, filmmaker, TV presenter and author of Into The Valley
If you would like a free digital copy of the novella 'Lovely Rita Meter Maid' ('So Very Mental' continues!) then click contact below and leave a request in the comment field.
OR if you simply want to sign up to my newsletter to get updates on news, my short stories or my upcoming novels simply submit here. (newsletters will be infrequent) Thanks for your support!